Jay van Hutten wrote us to let us know about this latest Gameboy Advance game. It's a remake of Flappy Bird. Interesting here is, that the GBA is not used as usual, but check out the video on your to understand. Flappy Bird is a one button game where you need to get a bird trough pipes, while not colliding with it. As said there is only one button, so with this button you can give your bird some height, but the height is being reduced immediate again. So you need to keep clicking and keep the correct height, which isn't easy at all.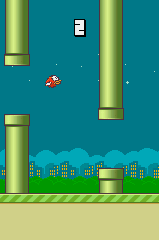 Please accept YouTube cookies to play this video. By accepting you will be accessing content from YouTube, a service provided by an external third party.
If you accept this notice, your choice will be saved and the page will refresh.