Sqrxz 2 by Retroguru is a Jump'n'Run which requires a sharp mind and fast reflexes, high frustration is guaranteed. Original Sqrxz made by Marcus Vesterlund (Maze) and John Holmvall (Hojo). Sqrxz 2 is a sequel to this game created by Rodolphe Boixel (Thor), Shahzad Sahaib (Kojote), Alexander Wiklund, Simon Butler and Jane Mumford (Jayne). GCW Zero port is courtesy of zear.
Story:
Another day another journey… As living on planet earth and its surrounding solar system seemed boring Sqrxz decided to check out another location in the universe. Just in case and to be extra careful he took a pocketful of emeralds with him to keep him in ready cash, but after starting his exciting journey he realized all his emeralds are suddenly missing! Retracing his steps Sqrxz notices mysterious creatures popping up all over the place to hinder him in his search… Oh what troublesome days… Help poor Sqrxz get back all his emeralds!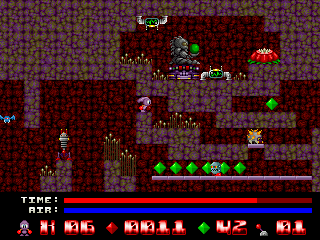 Please accept YouTube cookies to play this video. By accepting you will be accessing content from YouTube, a service provided by an external third party.
If you accept this notice, your choice will be saved and the page will refresh.
Features:
* Tough challenging gameplay – Extremely difficult; not for weaklings!
* Retro graphics!
* Hidden passages to discover!
* 10 tricky n' hard levels!
* 11 marvelous chiptunes!
* Top 10 highscore!
* Infinite continue mode, which you will need badly in order to practise! 🙂