Waimanu: Scary Monsters Saga is a new Master System game released on 13th November 2015 by Disjointed Studio. Waimanu should be no stranger to you, as he is already featured in two games. On Nintendo's Game Boy Advance with the title Grinding Blocks Adventure and on Nintendo's DS with the title Daring Slides.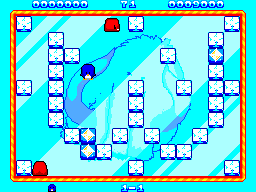 However: The gameplay of Scary Monsters Saga does not differ too much from the previous Waimanu games. Slide iceblocks to kill Weka's, align three diamond blocks in a line to score extra points. There is a total of 32 levels so it should keep everyone busy for some time. Possibly not as long as another part appears, but Master System homebrew is pretty rare these days, so we all shall be happy what we get. It's a free game, so feel free to donate or find another way to show your appreciation towards the team. Such great guys need to be motivated!
Please accept YouTube cookies to play this video. By accepting you will be accessing content from YouTube, a service provided by an external third party.
If you accept this notice, your choice will be saved and the page will refresh.
Considering we would have something like a homebrew of the month, this would be a very hot candidate! Thanks to Genecyst for the news via e-mail and sorry for the delay in spreading the word 🙂
http://disjointedstudio.blogspot.it/2015/11/yes-we-did-it-again.html