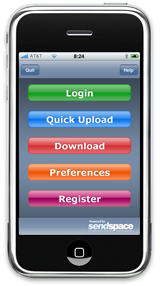 Put iShare on your iPhone and you can upload to your free sendspace account and share links in the usual way. You can share any type of file. You can even get us to send the link to a recipient via email. They will not need an iPhone to download the file, but if they do want to download the file to their iPhone, they can if they have iShare installed.
You can already download some things to your iPhone using the Safari browser, but only a limited number of file types. However, after a file has been uploaded to sendspace by you or anyone else who passes on the download link, iPhone users can now download any type of file.
The iShare application shows no advertising or other annoying stuff, just a simple to use interface to upload and download to and from your iPhone.