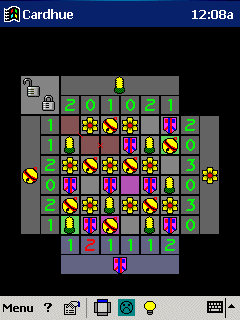 In Cardhue, you have to find the symbols hidden in a grid.
– Edges indicates the number of symbols in this line.
– No adjacent identical symbols, even in diagonal.
– No adjacent empty cells, even in diagonal.
You can lock/unlock cells to help your search, when you are sure of its value, to avoid an unwanted change. At the beginning of the game, some cells are already unveiled. You can unveil additional cells but with a penalty.
Compiled for ARM tested on iPAQ hx2750 PPC2003/SE.
Install: Just one file to manually copy on your Pocket PC from the zip.