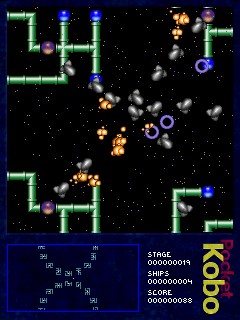 PocketKobo is a single-player four-way scrolling action game. Your objective is to destroy all the fortresses. Control your ship by pressing the cursor keys and shoot beams by pressing key B. To pause the game press key A, to quit press key C.
PocketKobo is a port of the game XKOBO by Akira Higuchi, which was intended for computers running Unix and the X Window System.
PocketKobo has been developed on the Toshiba e570, but should work on other PocketPCs as well (key assignments might need to be revised though). It uses the excellent GapiDraw library by Johan Sanneblad (www.gapidraw.com) for graphics output.