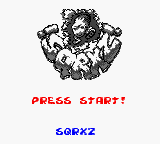 Sqrxz [skwerks] is an almost ordinary "jump'n'run" game for the Nintendo Gameboy (TM). The goal is to help Sqrxz, a bug, to find his way home. There are, of course, several obstacles on the way…
The main difference between other games in the same category is that Sqrxz is more a problem solving game than an action game.
Sqrxz now supports both the Color Gameboy, as well as the old Gameboy. See the section COLOR below for further information.