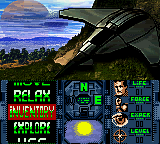 This is the final version of our adventure for Gameboy Color.
Now we're concentrated on GBA entirely, and we have no more time to work on this game so some bugs are still exist.
There are 2 versions for different methods of game saving
(cart RAM and password saving)
Star Heritage is a quest game where player becomes the secret agent of Earthen Resistance who bumps into an unexpected accident to dive into the world of the distant future, where high technologies come along with partisan wars and post-industrial decay.
Lots of dangerous places and situations are awaiting for player, alone on an unknown planet not far from the centre of invasion of brutal enemies who had already destroyed and conquered the Earthen Federation. Moving from location to location, exploring the world around, using unrevealed objects and tools, and talking to the inhabitants of this unexplored world player should survive and get back to the Federation's base. While discovering this hostile world, player accumulate experience and receive some knowledge which
might turn your goal into something far more important.