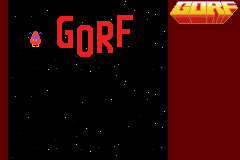 Gorf for Gameboy Advance is a remake of Gorf made by Jess Ragan.
From Wikipedia:
Gorf is an arcade game released in 1981 by Midway Mfg., whose name was advertised as an acronym for "Galactic Orbiting Robot Force". It is a multiple-mission fixed shooter with five distinct modes of play, essentially making it five games in one. It is well-known for its use of synthesized speech, a new feature at the time.
Gorf's objective is simply to destroy all enemies. The player controls a spaceship that can move slowly left, right, up and down.