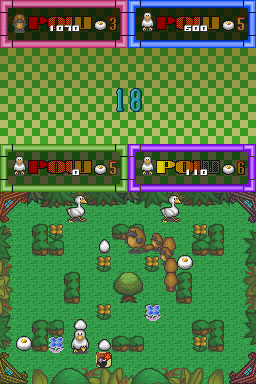 retrohead released his second homebrew game for the DS, "Take the eggs! Ornithorhynchus Anatinus GO GO GO! DS."
This is a port of the Sega Saturn game by NAXAT SOFT called Motteke Tamago with Ganbare! Kamonohashi.
The game can be seen as a cross between the classic Bomberman games and Flicky.
The author DOES NOT wish to have this game downloadable form other sites, please visit: http://files-ds-scene.net/take_the_eggs/? (Yes, PDRoms does have a mirror, which will be enabled once the page might disappear)