Archive for December, 2016

Chris Cacciatore is heavily working on his NES game Nebs & Debs and hopes to have it ready in late spring 2017. The game itself is a platform game. For now you can run, jump and collect diamonds. Progress: * Game can now be paused (using upper bits of PPU_MASK to darken screen). * Crystals glow using palette swapping. * [&hellip

FBI is an open source file and title manager by Steveice10 for the Nintendo 3DS. Changes: * Add warning when opening the NAND. * Decrease buffer size of transfers over HTTP. Should help with speed. * Display transfer speed in copy operations. * Enable N3DS speed-up. * Revise remote installation into a list of methods for receiving URLs. – "Receive [&hellip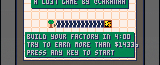 Pico Factory by caranha is a game with a small twist on the "factory" genre, you have a limited time to play, and must make as much money as possible in that time. What is the optimal build order? Changes: v1.3 – Rebalanced costs, added two new items, added overwriting

Bored? Need something to read? Maybe even free? What about the latest REV'n'GE? Issue #69 is out!

Mine Dig is a new Atari VCS game by mojofltr. Dig down into the ground to collect diamonds and rescue trapped miners. Avoid buried mines with the aide of your mine sensor

Mountain King updated his new WIP Atari VCS game The Gizzle Wap and the Great Blizzard. It's the holidays in Sundra. A great blizzard hit the land suddenly trapping anyone that was unfortunate enough to be caught outside. You play as the Gizzle Wap and the Moum Moum searching the land for survivors. Move the Gizzle Wap left and right [&hellip

Little Jumping Car is a little car driving game by Gemini Software Studio with a special twist. High above the ocean there are over 250 secret manic stunt tracks. While clock is ticking, take your little blue jumping car and win them all. Changes: – Even more performance improvements 🙂

Maze Game HD is an Android game by GeagleDev. It's a 3D Maze game, where you need to look for the sister ball!

Sijmen Schouten and Marc Jaschusch released their Atari VCS homebrew game Defend your Castle to the public! As the name suggests, defend your castle before it gets broken into pieces by your enemy. The game is free of charge for personal use

HO HO Ride is an Android game by ThrillaBit Studio. Just do, what Santa would do 🙂