Below are Shahzad's Articles:

The first attempt funding Where is my body? by Dana Puch did not work out. So here is the second attempt of a funding, which is actually already successful and there are another 6 days to go. The type of game is very particular, an original idea from the graphic adventures of the early 90s. You have to find out

Hermes is an extraordinary Jump'n' Run game with plenty of bad taste humor. Nop90 got some time to release an initial port for the PlayStation 2! Go ahead and catch the chicken, or stay hungry for supper 🙂 Hermes – Run à la carte | by Retroguru (Official Trailer)Watch this video on YouTube

Nix: The Paradox Relic is a brand new NES game. Nix: The Paradox Relic – Reveal TrailerWatch this video on YouTube. A group of dangerous space pirates have hidden in the abandoned Neoterica Research Facility, built into the side of a huge asteroid. The facility is very dangerous, the home of many fearsome monsters and failed experiments. Valuable relics and

Do you love the Game Boy? Would you love to make games for it? GB Studio 2 is around the corner…! GB Studio 2 Beta TrailerWatch this video on YouTube

It's 2020 and we do get a brand new physical Wii game. Vblank Entertainment and the guys at Nintendo made this possible. If you are into games like GTA, you will love this one. Let's read on… Shakedown: Hawaii | The "Full Tank" Update [Nintendo Switch, PS4, PS Vita, 3DS, PC]Watch this video on YouTube. Quote: Welcome to Shakedown: Hawaii,

Mangangá Team released their Sega Genesis / Mega Drive game Arapuca to the public. The full version of this game has 15 puzzles, 4 original songs and offers lots of fun. The game makes heavy use of Mode7. arapuca para Mega DriveWatch this video on YouTube. Choose one of the cats and help the cat to solve the puzzle of

Journey to Oblivion by Mega Studios is a space shooter game for Sega Mega Drive / Sega Genesis, currently in development by Mega Studios. For 2US$ you can get a recent version from itch.io. Journey to Oblivion – New game for Sega GenesisWatch this video on YouTube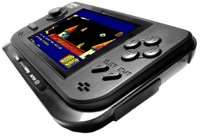 Orkie still dives into GP2x development, which is a great thing. He recently contacted us to let us know about Open2x Bootloader. It's an alternative bootloader for GP2X. Requires Orcus and DevkitARM to compile. 'make' will generate a gp2xboot.img file which can be flashed with the GPH u-boot. The bootloader has a simple command line interface accessible via UART –
If you happen to be amongst waterpipe smokers, you may enjoy the waterpipe selection from PaffPaff. They have a wide range of high-end quality waterpipes and accessoires – the quality aspect is really a very important one to them as only top notch material is used. These guys have their shop in Karlsruhe, Germany, but you can order online too.
If you are one of the few ones here running their own gastronomy business have a look at servier.bar – It's a German company giving you the ability to create your own menu using QR-Codes. It's a quite interesting system, so please go ahead and check it out. And yes, this is actually sort of off topic, but maybe interesting