iNXES is the next generation XBOX Live Friends list application from the team at 1337pwn.com. As the creators of the most popular XBOX Live application in the AppStore, they have put their expertise to work with a totally new mobile XBOX 360 experience.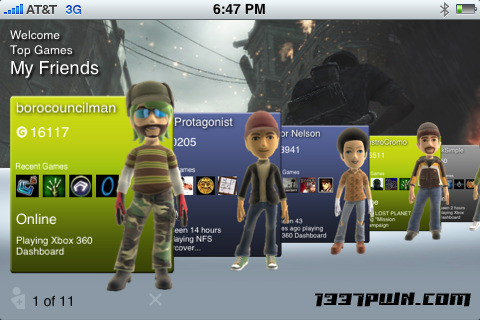 With the NXE as inspiration, the 1337pwn.com team has brought the excitement of the new XBOX 360 user interface to iPhone/iPod touch. From sliding panels to avatars, you can now browse your friends on the go as you would on your XBOX 360.
Features:
* Touchscreen, gesture-based navigation
* Full NXE-style gamer card when browsing friends
* Complete profile support including name, location, and biography
* Detailed play history including achievement progress graphs
* Automatic sorting of gamers by status and gamertag
* Send Message shortcut through XBOX.com
* Shortcuts to Online Stats for popular applications
* Browse Top Games on XBOX Live
Sidenote: At the point of posting this program has been marked as beeing freely available without costs. As this program is hosted with the AppStore the status might change. Authors like to publish their programs for free for promotion purpose and then make it commercial. Also it could happen that the author decides to take the program down.
http://appshopper.com/social-networking/1337pwn-inxes-xbox-live-friends