Take control of your home entertainment equipment with your iPhone or iPod Touch and the ApexConnect Home Controller. Attach ApexConnect to your home network and take control of your devices using the WiFi port of your iPhone or iPod touch. Turning on the TV or setting the mood to watch a DVD has never been so cool. Stop looking for that old TV or DVD remote control, just whip out your iPhone or iPod Touch and start the show.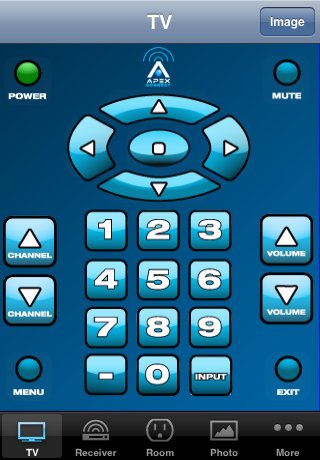 Features:
– Control Apex Digitals LD4250 LCD TV
– Control Audio Receivers
– Control DVD Players
– Control Satellite receivers
– Learn the IR of other remotes
– Controls Insteon devices
– Trigger scenes/moods with just one button push
– View remote controls in two different views, Button view of Picture view
Sidenote: At the point of posting this program has been marked as beeing freely available without costs. As this program is hosted with the AppStore the status might change. Authors like to publish their programs for free for promotion purpose and then make it commercial. Also it could happen that the author decides to take the program down.