Charts&Tides is the best marine navigation solution for your iPhone! Featuring vector charts and tide harmonics data derived from official NOAA data, this application brings the power of an Electronic Chart System to your fingertips.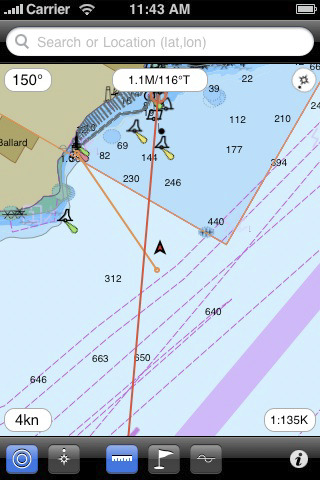 Features:
– Continuous and consistent coverage with the maximum detail available at the region of your choice. Complete OFFLINE chart database is included. No 3G or WiFi connection required.
– Vector chart looks good at any scale and rotation. Use one or two fingers to move, zoom or rotate your chart at AMAZING speed.
– Tap the chart to get feature information including NOAA notes.
– Quick search for features by using the search bar at the top.
– Get tides for reference and subordinate stations in your region. Search for tide stations by tapping on the "tides" toolbar button. See the tide levels for any date or tap on the tide view to see the tide level for a particular time of the day!
– Find your position, speed and track using the iPhone's built-in location services.
– Add, edit and delete waypoints. [Hold finger over chart to add a new waypoint.] Goto waypoints with distance and bearing.
– "Day" and "Night" color schemes for your main chart display.
Sidenote: At the point of posting this program has been marked as beeing freely available without costs. As this program is hosted with the AppStore the status might change. Authors like to publish their programs for free for promotion purpose and then make it commercial. Also it could happen that the author decides to take the program down.