Plusmo's College Basketball Live gives you all the latest scores, schedules, standings, news and blogs for your favorite NCAA Basketball teams and players. You can keep track of all the latest scores from live games, and you can even chat with other fans and cheer or boo teams.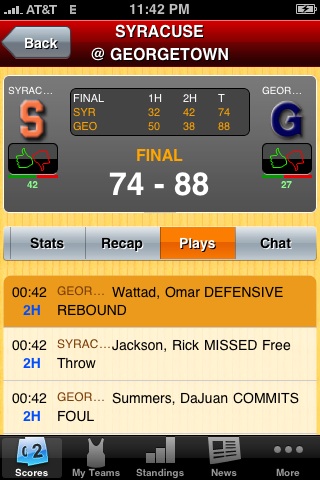 College Basketball has live play by play for all teams in the Top 25 and then ACC, Big 12, Big East, Pac 10, SEC and Big 10 conferences!
College Basketball Live also lets you set your favorite teams so you have one touch access to all the latest live scores.
Sidenote: At the point of posting this program has been marked as beeing freely available without costs. As this program is hosted with the AppStore the status might change. Authors like to publish their programs for free for promotion purpose and then make it commercial. Also it could happen that the author decides to take the program down.