Dark Nova is the highly anticipated conversion of the classic Palm Pilot game "Space Trader" for the iPhone. A complete and total graphical overhaul and game flow/design update, Dark Nova will be one of the best-loved iPhone games to come along for the platform. Visually stunning graphics, a luscious soundtrack, and an unbeatable auto-saving mechanism make this the game we've all been waiting for. Be the first space cadet on the block to get it.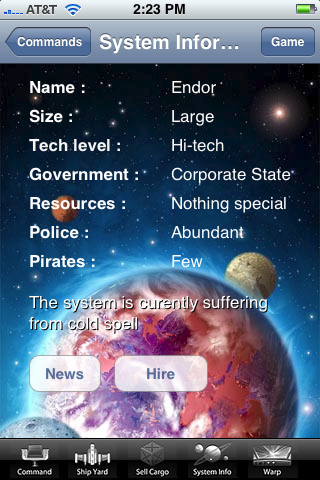 Dark Nova is the essential single-player role-playing game we've all been waiting for on the iPhone. A real-time expansive universe consisting of over 100 star systems, each with many planetary bodies make this a game that you don't master in short order. Buy and sell goods between star systems, make a profit and try to avoid the Police along the way…if you can. Become a trader, a pirate, or a mercenary for hire. There's a market for all professions.
NOW FOR A LIMITED TIME INTRODUCTORY PRICE OF: FREE!