Isn't it great to leave your iphone/ipod touch on the nightstand as a clock? What about customize it the way you want? Easy Clock gives you all the options: color, time/date format, wide landscape mode, digital/analog clock and 3 modes for different habits. Now start to make the clock of your own – Easy Clock is the coolest clock you can get!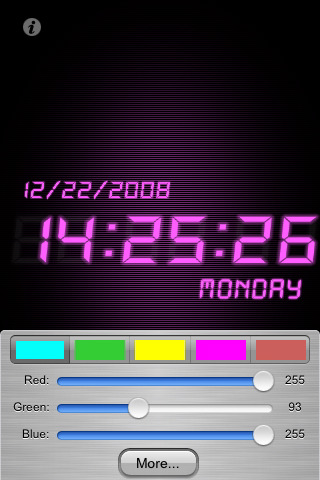 Features:
– Customize font color
– Customize date format: With or without am/pm, second, day, date
– With or without backlight
– Support both portrait and wide landscape modes
– 12-hour/24-hour time format
– Digital/Analog display
– Prevent auto lock
– 3 modes: Bright mode – always keep the light on, no keypad lock // Sleep mode – always keep the light on, lock keypad // Dim mode – display in dim light, no keypad lock
Sidenote: At the time of posting this program has been marked as beeing freely available without any costs. As this program is hosted with the AppStore the status might change. Authors like to publish their programs for free and / or for promotion purpose and then start charging.