Tired of picking the wrong button in the small keyboard? Want to exchange message between your friends' mobile phone and your ipod touch? Now with Easy Message, you can use wide landscape keyboard to write your messages and send them for free! (All message are sent as email.) After composing your message, choose the receipt's mobile phone number and its service provider/carrier. Tap the "Send" button. Send the message in mobile mail and receive the replies there.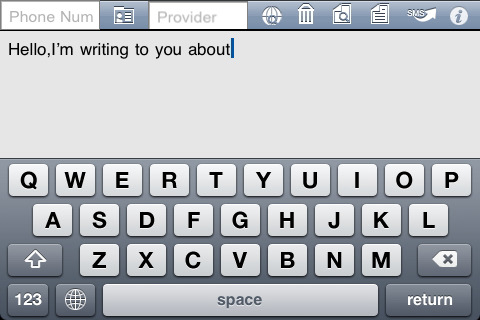 Features:
– Send all messages for free
– Wide landscape mode keyboard support: larger keys, wider space between keys.
– Support all languages on iphone/ipod
– Spell check for English
– Built-in dictionary for spell check
– Directly send message in spell check preview
– Save unfinished message to the draft library.
– Draft library: save your draft and load it onto the message anytime.
– 20 preset sentences in Draft library.
– Auto save when a call comes in.
– Clear subject when delete current draft.
– Support '&' perfectly.
– Support secondary handhold mode(wide landscape with volume control button on top- home button on the left side).
Sidenote: At the time of posting this program has been marked as beeing freely available without any costs. As this program is hosted with the AppStore the status might change. Authors like to publish their programs for free and / or for promotion purpose and then start charging.