fastworks initiated its research project over 16 years ago into the best practices of fast new product development teams in Silicon Valley. The study continues today through ongoing refinement of the evolving best practice database, based on fastworks consulting practice. fastTeams documents those best practices, delivered to you in a convenient and portable form.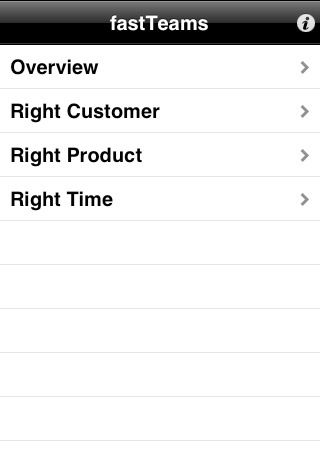 fastworks has developed techniques to assess organizational readiness for change in order to adapt and implement the practices–knowing that best practices alone are necessary, but not sufficient to create sustained improvement.
Features:
– Practices of fast teams categorized by Right Customer, Right Product, Right Time
– For each best practice descriptions include summary, best teams, normal teams
– Brief description on the study, the framework and glossary of terms
– Portrait and landscape modes supported
– Shake the device to bring up a random practice
– Detailed study available at http://www.fastworks.us/weblog/best_practices/
Sidenote: At the time of posting this program has been marked as beeing freely available without any costs. As this program is hosted with the AppStore the status might change. Authors like to publish their programs for free and / or for promotion purpose and then start charging.