Fliq Docs from Mark/Space is the easiest way to send and receive documents and files between your iPhone, iPod touch, Mac and Windows PC.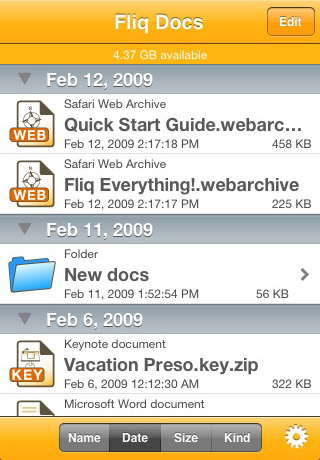 Fliq Docs is also a quick and efficient way to take your documents with you and share them with others.
For example, if you have a PDF or Word file on your computer and need to get it on your iPhone or iPod touch for a meeting, just fliq it over a WiFi network to yourself and you're done. It's really that easy.
To share an Excel or PowerPoint document with a friend, co-worker or classmate, ask them to get Fliq Docs for their iPhone or iPod touch or try the desktop version for Mac and Windows PC at GetFliq.com.
No emails, pesky configurations, difficult setups or FTP clients required. Fliq automatically detects your WiFi connections.
The uses for Fliq Docs are nearly endless. It's the ultimate way to share files and take them with you.
Here are more ways to use Fliq Docs:
– Send a expense report in Excel to a colleague.
– Save a PowerPoint from an offsite meeting and Fliq it to your computer when you return to the office.
– Keep a copy of directions to your house, office or school to 'fliq' to others.
– Send your resume to people at trade shows and other networking events.
– Read eBooks in PDF format in a cafe or during lunch.
– Receive a sales report at work and view it on the train home.
– Exchange photos with friends and share them with others.
– Organize documents in folders.
Fliq Docs is also a powerful organizer. Its intuitive and user-friendly interface makes it easy to quickly sort documents and files by size, date, name and type using its cool and user-friendly interface.
You can 'fliq' and store any type of file. Plus, you can view many file types including the following:
– Microsoft Office files: Word, Excel, PowerPoint (.doc, .docx, .xls, xlsx, .ppt and .pptx)
– Preview and Adobe Acrobat (.pdf)
– Text files (.txt)
– Web pages (.htm and .html)
– Web archives (Safari web archive)
– Photos and images (.jpg, jpeg, .gif, .png, tiff)
– Music and audio files, non-DRM (.mp3, .aac, wav, .m4a, .aiff)
– Videos (.mov, .mp4, .mpv, 3gp)
– iWork files (Keynote, Pages, Numbers)
http://appshopper.com/link/fliq-docs-•-organize-view-and-share-files-over-wifi