This application is a Unicode font browser, color browser, and keyboard keystroke browser. It's useful for Web designers, software developers, colorists, font fans, X windows users, and people customizing AirMote Remote Control app buttons.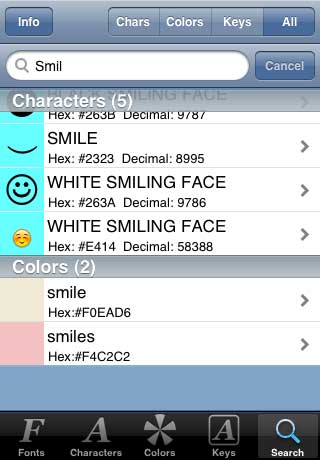 Want to know what the Malayalam letter Gha looks like? Need the web code for the color "Aerugineus", or just want to see a swatch? Do you need to know the key code for a left arrow? Wonder what fonts are installed in your device? This app is for you!
Browse through more than 19,000 characters in the Unicode font, 9,600 named colors, and 1,900 X11 keyboard codes.
Search for all "arrow" symbols (356), all the "blue" color names (1,027), or all the "bracket" keys (14). Or just have fun scrolling through the thousands of symbols and colors built into your device!