Free Kick Pro FREE for 2 DAYS!!!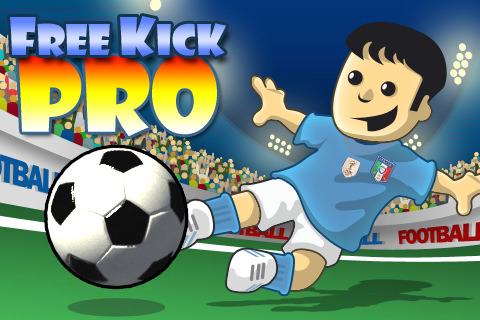 Free Kick Pro is a truly interactive free kick simulator for your iPhone and iPod Touch
The game features simple, pick-up-and-play controls and stunning cartoon-style visuals to enjoy.
The control system is simple but precise, just point your finger on the screen on the position that you want to kick and the player will start the run-up and then release it at the right moment to try to score a great free kick.
With one finger you can decide the direction of the ball and the power of the shot, but bear in mind the wind condition which will affect the ball when it is in flight.
If you judge the wind right, it will allow you to hit incredible Super Shots to the hardest to reach parts of the goal at either posts or just below the crossbar.
You can always go back and try to better your top score, or show it to you friend through the automatic replay mode and saved Replay mode.
After the first 5 levels, the ability of the goalkeeper to save your shots will improve, so easy levels will give the player a great taste of the game initially, but the keeper will get progressively harder to beat and only the brave and skilled can reach all the 21 positions to win the game.
For each level you have 10 shots available to score and go to the next level..