Organizing your gift lists has never been easier: Gift Guru lets your iPhone and iPod Touch manage all your shopping needs with helpful features to track special occasions like birthdays and anniversaries, look up potential gift prices and even add recipients from your contact list.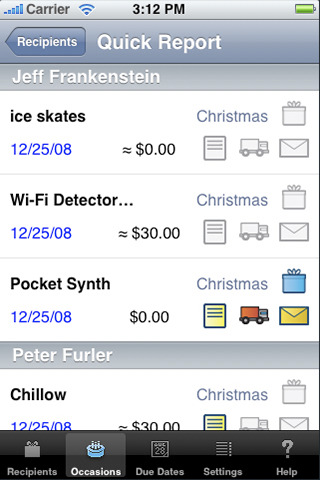 Features:
– Contact List Access: Insert recipients directly from contacts list
– Gift Status Indicators: Informs you if gifts need to be purchased
– Preset Occasions: Select occasions such as Christmas and birthdays, or manually add your own occasion
– PriceGrabber.com: Access PriceGrabber.com from within app to find items and compare prices
– Budget: Budget gift occasions, estimated totals and record actual costs
– Passcode Protection: Restrict viewing access with a passcode
– Free: Gift Guru application is free for a limited time only
Sidenote: At the time of posting this program has been marked as beeing freely available without any costs. As this program is hosted with the AppStore the status might change. Authors like to publish their programs for free and / or for promotion purpose and then start charging.