With Goojet: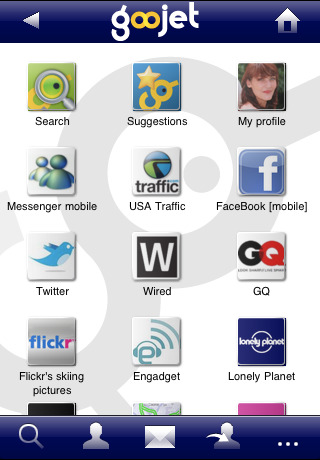 – Enjoy your favorite Web sites in one click and in an adapted format on your personal home page.
– Send free messages and widgets from your iPhone to your friends on their PC or mobile (even if they don't have an iPhone!)
– All your RSS feeds as well as hundreds of widgets to share with your friends.
– Stay tuned: let your friends send you the services or sites they liked.
1000+ services available among which Windows Live MSN Messenger, Facebook, Dailymotion, Twitter, MySpace, CNN, Lonely Planet, Flickr, Wikipedia, USA Today, BBC, sports news, weather forecasts, horoscopes, etc…
Sidenote: At the point of posting this program has been marked as beeing freely available without costs. As this program is hosted with the AppStore the status might change. Authors like to publish their programs for free for promotion purpose and then make it commercial. Also it could happen that the author decides to take the program down.