iDemocracy is the very first iPhone 1.1.1 jailbreak and third-party app installation solution for the Windows platform, written by Drakenza which is (at least partially) automated, and has a GUI interface. It is currently supported on Windows XP/Vista and requires only iTunes, an iPhone, and the Microsoft .NET Framework 3.0.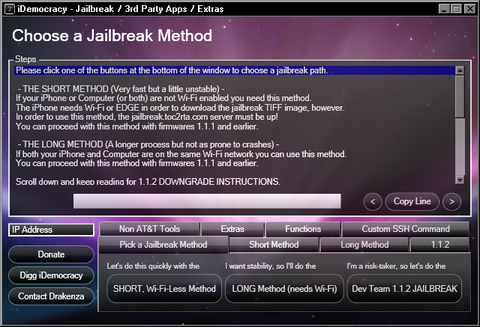 iDemocracy 2 brings all kinds of new features like free ringtones on firmwares 1.1.1 and 1.1.2, as well as File Browsing (using Manzana) and all kinds of other wonderful things.
iDemocracy NOW SUPPORTS FW 1.1.2. However, it cannot unlock OTB 1.1.2 iPhones running bootloader 4.06 (yet). There will be a release 2.1 shortly after the release on the 16th which will add this functionality as soon as possible.