mdINR is an electronic diary for patients on anticoagulation therapies, especially patient performing home testing of their PT/INR (Patient Self-Testing, or "PST"). This version, the first mobile application ever developed for patients on anticlotting medications, supports Coumadin (Warfarin).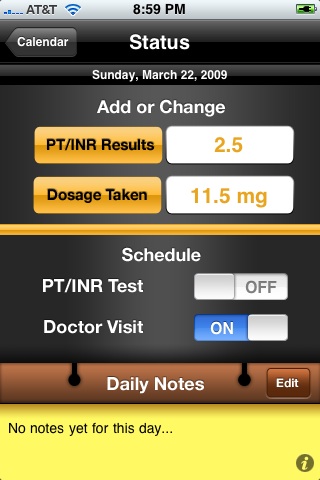 Patients taking Coumadin (a trademark of Bristol-Myers Squibb Phara Company) can use the mdINR application on their iPhone or iTouch to track their daily dose of Coumadin, to schedule future home PT/INT tests and physician office visits, to auto-generate reminders on critical PT/INR test days, and to track INR test results. Furthermore, a daily notes function enables patients to record events that could affect clotting function or cause fluctuations in the PT/INR (for example, a change in diet or the sudden introduction of certain antibiotics).
Patients using mdINR on a daily basis may prevent missed or double doses and will have a detailed electronic record of their PT/INR and dosing history to share with their physician for improved clinical decision making.