MDXspREF is a simple tool for looking up established reference conductance numbers for many battery types commonly used in stationary DC power applications.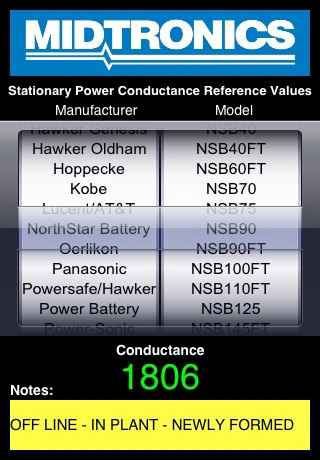 Values presented are typical averages to be used as general guidelines only; Midtronics encourages customers to establish their own relevant testing values.
These values are subject to change through Midtronics and battery manufacturer refinement.
Generally, a sample of 30 new or healthy batteries was tested to obtain a value representative of a new battery on-line after 90 days from installation.
The reference numbers presented should only be used with a Midtronics Celltron-series battery analyzer.
Sidenote: At the time of posting this program has been marked as beeing freely available without any costs. As this program is hosted with the AppStore the status might change. Authors like to publish their programs for free and / or for promotion purpose and then start charging.