This is a simple tea steep timer that will alert you when your tea is done steeping. It has a "Tea Knowledge" section that will supply you with random bits of tea information from our servers. There is a "Favorites" section for faster access to the tea timers you use regularly as well as "My Timers" where you can place timers you don't use so regularly.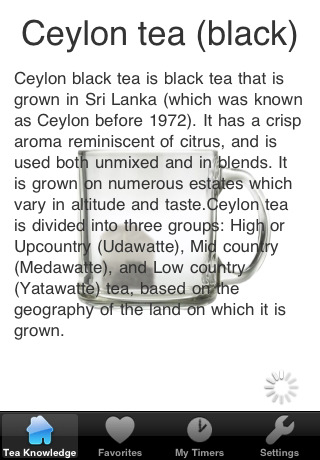 It has over 15 alarm sounds and the ability to turn vibration On and Off. Simple animations such as tea color changing as it steeps make the UI more enjoyable. You can select from multiple sounds and toggle vibrate on/off for when the alarm sounds.
This can be used and enjoyed by anyone that likes to drink tea and enjoys to learn about different teas. This will be fully utilized by those whole LOVE tea and drink many many different kinds and can't seem to ever remember the steep times. Adding a new timer is easy; just select new timer from the "My Timers" tab, enter a name, toggle if you want it to appear in your "Favorites" list, select the steep time and click done. That's it! Now when you want to use the new steep timer, simply click it from the "Favorites" tab, or select it from "My Timers" and click "Start Timer". Now you can always enjoy that perfect cup of tea, and the "Tea Knowledge" will have you using it more often just to get the random teas you might have not known about before.
Please feel free to give any sugge