When you're on the golf course, do want to get yardage to the hole quickly? How about other landmarkes, like sand traps, hazards, the front and back of the green, layup positions and more? If so, you don't have to pay $300 or more for a range finder – myCaddie for iPhone 3G provides accurate distance to every location on the golf course you care about.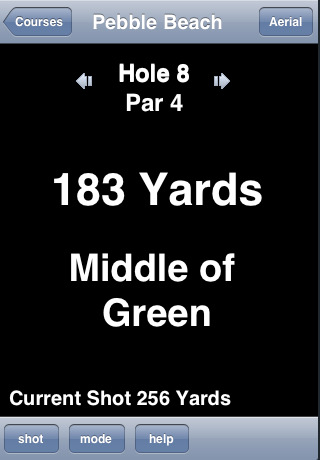 myCaddie is simple to use – easy-to-read yardage is displayed to each landmark on the course. myCaddie also features aerial views of each hole, shot distances and distances between landmarks.
To get started, download myCaddie to your iPhone, then visit www.imakepars.com to register. Once you've registered, enter your email and password into the myCaddie Settings screen.
myCaddie works using the GPS capabilities of iPhone 3G, combined with course maps you and other golfers create at the iMakePars.com website. iMakePars.com provides the easiest way to map courses completely and accurately – mapping a course takes as little as 10 to15 minutes. And once a course has been mapped, yardage finding capabilities are immediately available to all myCaddie users.
Course maps can be highly customized – the amount of detail you include is basically unlimited. And you can get yardages from anywhere – the other fairway, behind a tree – to anywhere, without aiming binoculars at the pin. Create your own map from scratch, or simply enhance someone else's.
Please visit www.imakepars.com for more information. Play great golf and have fun!
Sidenote: At the point of posting this program has been marked as beeing freely available without costs. As this program is hosted with the AppStore the status might change. Authors like to publish their programs for free for promotion purpose and then make it commercial. Also it could happen that the author decides to take the program down.