NetServices is an iPhone preferences utility program designed to aid in switching network services on and off. It is adaptation of Chris Hoffman's Services.app that adds the ability to control an assortment of additional Network & Computer Sharing services.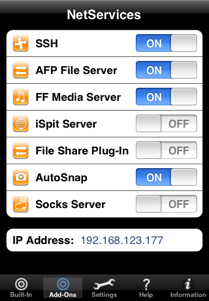 Changes:
NEW Major User Interface upgrade
NEW Airplane Mode Control Added
NEW Auto-Snap Control Added
NEW iSpit Web Server Control Added
NEW Mail Fetch Control Added
NEW International Roaming Control Added
Socks scripts rebuilt
Thanks to http://www.iphoneskinning.com for the news.