Pool for the iPhone is a native Pocket Billiard game to run on Apple iPhone and iPod Touch.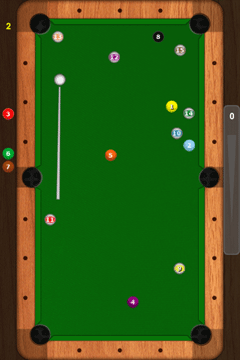 The object of the game is to pocket all colored balls, using as few strokes as possible. The order of pocketing is free. If the cue ball (white) is pocketed, one of the previously pocketed balls is placed back on the table. The number of strokes is shown on the left top corner of the table.
How to make a shot:
First select direction of the shot. Touch the screen and the cue will be directed towards touch position. Then select shot power. Touch on the power selection area (on the right side of the screen) and drag. The number on the top will show the power of the shot (1 to 100). Release your finger from the screen to make a shot. Use Settings page to customize game options.
Manual Installation:
Download here: http://www.adikus.com/Pool.app.zip – Copy contents of the file to /Applications/ folder on your iPhone/iPod. You may need to set file permissions.
Please leave comments on the blog. – http://www.adikus.com/blog