ZodTTD, master porter and hobby homebrewer, has released his port of Quake to the iPhone! It will require you to use an iPhone or iPod with latest firmware (v2).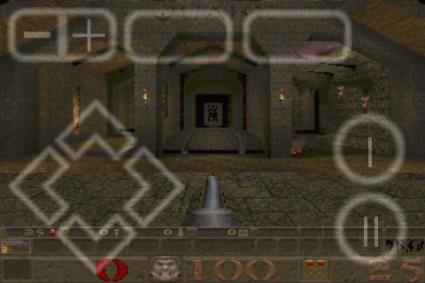 Release notes:
Heya everyone! ZodTTD here.

As you can tell the site was having various connectivity and usage issues. Everything should be working fine now. If it's not, use the contact form in the top menu to reach me.

The reason for the downtime was largely due to massive influx of quake4iphone downloads. Within a matter of a few hours, over 7000 downloads were completed. The number continues to rise way up today now that the ZodTTD.com webserver is under control!

So yes that's right, I have released quake4iphone publicly for iPhone and iPod Touch firmware 2.0 users via the built-in ZodTTD Cydia repo.

quake4iphone, a Quake 1 port, includes the shareware 2 level pack. You may add your retail pak files to enable retail levels. The screen mapped virtual keys CTRL, SHIFT, and ALT can be binded in the config.conf file.

Some things on the todo list:
– Add tesu's controller skin.
– Add a key to go back from the menu.
– Make sure saved games work.
– Make sure internet multiplayer works.
– Small tweaks where needed.

Let me know what you think, be sure to leave feedback / comments!