Use your iPhone or iPod Touch to wirelessly control ReQuest media servers.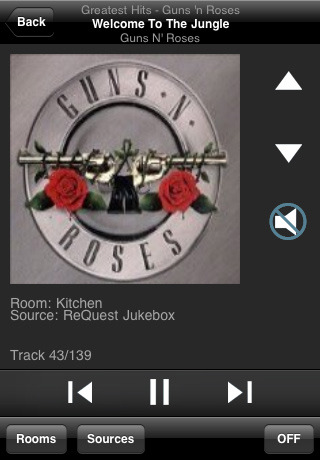 This application will ONLY work with ReQuest N, F, S, and iQ media servers running Serious Play Operating System 5.4+ or any V5 servers running 6.1+. Do not download this application if you do not own a ReQuest media server as it only provides features and control of ReQuest servers.
The ReQuest iPhone application provides simple control of multi-room media servers from ReQuest. With multiple audio outputs built into ReQuest servers, the application allows family members to listen to different songs, playlists, and radio stations in different rooms of the house simultaneously.
Features
– Quick "Play Now" button to play all songs from an artist, genre, album, or playlist
– Play Now and Add to Queue for creating your favorite jukebox playlist
– Control music selection and volume for every zone
– View metadata and cover art
Additional features for iQ
– control and view all rooms and what source is playing in each room
– manage music with source selection and volume control
– XM, Sirius, AM/FM stations and presets
Note: This version has limited control of streaming radio, finetune, and IR controlled devices connected into an iQ system.
Changes:
– fixed "Play Now" bug