Sketches is a drawing application for iPhone's.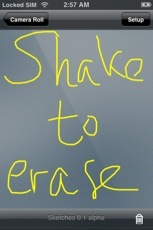 Sketches 0.1 alpha already allows you to draw on the screen, select a picture from the photo album or shoot a photo to draw on top of it. It will save your work automatically, unless you clear it using the button or shaking your iPhone like an etch-a-sketch. You can draw full-screen: the UI will hide when you tap on the screen.
Future releases will include many improvements, such as the ability to select pencils and colors, a library of stationary to use for your background, geometric shapes, complex shapes (stamps), saving your work to the photo library (so that you can synchronize back to your computer), and many other ideas we will be thrilled to develop.
Thanks to http://www.emuholic.com for the news.