Soonr is the smart, simple way for you to access everything you need, everywhere you are.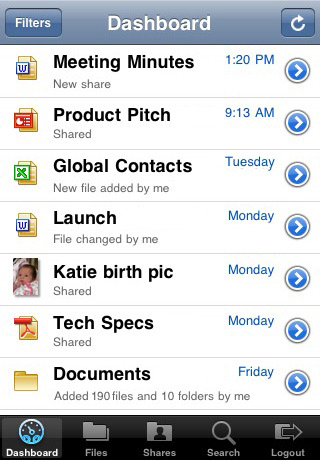 Create your "personal cloud" by simply uploading your files from any of the computers you use. Then, enjoy your new secure, mobile cloud power with your iPhone or iPod touch.
– View PC or Mac documents and pictures fast.
– Share with anyone, using just their mobile phone number.
– Search all files in your cloud.
– Secure computer files with "set it and forget it" backup.
– Print to any shared printer!
Soonr gives you all this and more. Be in control and in touch even when you're away from your desk and computers are turned off.
Soonr and iPhone. New freedom, security and mobility. It's simply a better way to work!
Requires free Soonr desktop software, to be downloaded from http://www.soonr.com
Sidenote: At the time of posting this program has been marked as beeing freely available without any costs. As this program is hosted with the AppStore the status might change. Authors like to publish their programs for free and / or for promotion purpose and then start charging.