Tap Tap Revenge 2 features a completely new gaming engine with awesome new graphics and effects, making for a more immersive 3D experience. As you progress through each song, the colors and effects get more intense. On the higher levels, we've introduced "tap and hold" and "multi-tap" features that make the game even more fun.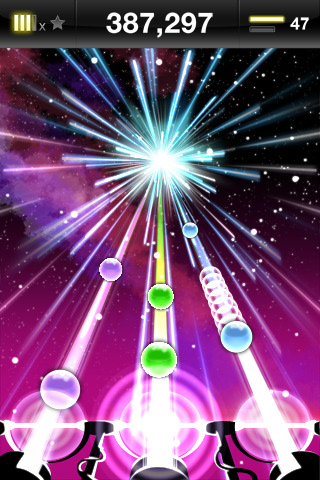 The download catalog features over 150 free new songs. There's something for everyone: rock, dance, electronica, pop, hip hop, even country music. The catalog includes hits from Death Cab for Cutie, Prodigy, The Crystal Method, Daft Punk, The Offspring and Nine Inch Nails. Every Thursday, we add more awesome free tracks from featured artists. And since Tap Tap Revenge 2 is for everyone, we've added a fun new Kids mode that even two-year olds can enjoy.
Tap Tap Revenge 2 offers THREE ways to play with your friends. The addictive new Challenge mode lets you send an email to your friends, challenging them to beat you on the game you just played. The progress meter will let your friends see at all times how they stack up against your play, and we'll let you know how they did! Two Player Split-Screen mode sports an all-new look, progress meter, and catchup balls, and is perfect for when you want to share your iPod touch or iPhone with a friend. Go online to play with friends or people nearby using the vastly improved Online Play.
Career mode lets you progress through the game, and share that with your friends. Frequent tournaments and contests, and weekly new songs by top artists mean that there is always something new to greet you when you boot up Tap Tap Revenge 2.