The Submarines iPhone App is a free, fun toy for your iPhone made in collaboration with Cole Gerst (the Honeysuckle Weeks album art illustrator), Rhapline and The Submarines, themselves. The app features two main parts: "Play with the Subs" and "Snap Dragon"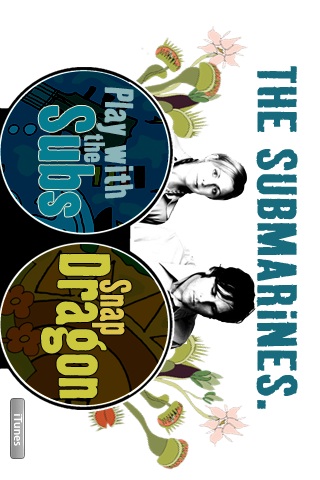 Play with the Subs says what it does and does what it says. Play loops from your favorite Subs songs then play WITH using touch activate instruments including Hand Claps, the Glockenspiel, and Vocal Samples.
Snap Dragon (also known as a Cootie Catcher, Paper Fortune Teller or Chatterbox) is something you may recognize from grade school. It's an origami device where a player asks a question, and the holder of the device answers using the Snap Dragon. Usually the questions, answers, colors and/or numbers (depending upon the playing method) are added to the device by or to suit the user. For the submarines, the colors and numbers are replaced by Subs-inspired insects, animals and other objects. The fortunes are replaced by submarines lyrics and images formatted for you to use as custom background images for your iPhone.
About the Submarines: The Submarines are an indie pop group comprising John Dragonetti (aka Jack Drag) and Blake Hazard, who initially crossed paths while working as solo artists in Boston. Introduced by mutual friends, the pair soon became musically and romantically involved. Dragonetti produced Hazard's debut solo album, 2002's Little Airplane, and they began playing and performing with each other's bands. The couple moved west to Los Angeles to continue their career in warmer environs, but their relationship ended during the fall of 2004. The event fueled their respective songwriting, however, and since Hazard still recorded her material at Dragonetti's studio, the two began sharing the songs they'd penned about their breakup. Apparently, this also worked to reconcile their love, and the two got back together, recorded the aforementioned breakup songs, and ultimately married. Declare a New State!, which was mastered by a friend as a wedding present, was then released on the Nettwerk label in 2006. Honeysuckle Weeks followed in May 2008, featuring decidedly happier songs and an increased emphasis on Hazard's lead vocals.
An instrumental cut of "You, Me and the Bourgeoisie" — also from Honeysuckle Weeks — was used in a worldwide commercial for Apple, Inc. new iPhone 3G.
About the Developer: Rhapline is the online platform that transforms your music into a rich interactive experience. Free exclusive bonus material is available for The Submarines and many of today's other leading music artists with the Rhapline application for Windows, Mac and iPhone.
Links
The Submarines – http://www.thesubmarines.com/
Option-G (aka Cole Gerst) – http://option-g.com/
Rhapline Website – http://www.rhapline.com/