Connect the same four color chips in a row to win. Play multiple levels and be challenged playing this game or play against a friend.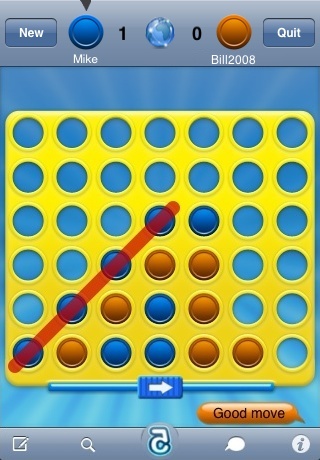 Features:
– Now with peer-to-peer gaming over Bluetooth and Wi-Fi in iPhone OS 3.0!!
– Multi-player support over the INTERNET via WiFi, EDGE or 3G!
– Multi-player WiFi support over your WiFi LOCAL NETWORK!
– Send Instant Messages to your opponent
– 3 board sizes and 3 computer levels
– Undo, Hint and see Last Move Made supported!
– Saves wins and losses against every opponent including network and internet opponents!
– Accelerometer support; turn upside-down and watch the chips fall out the top!
– Auto-save feature to answer a phone call or check email during a game!
– See the country where your internet opponent is playing!
– Great graphics, sounds and user interface!!