TrackBAC is a simple and easy to use blood alcohol calculator that estimates and graphs your BAC level over time. Simply, DOUBLE-TAP a drink icon to record your drink and TrackBAC will plot it on the realtime display and update your BAC.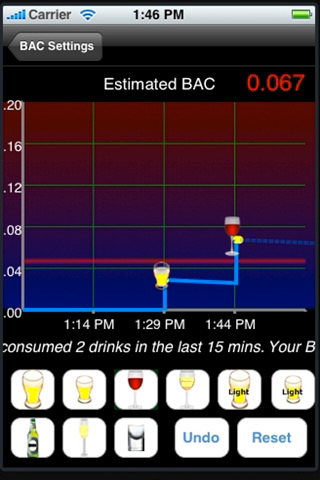 TrackBAC will list the progressive effects of alcohol on the impairment ticker as your levels change and let you know when you're over the limit. Scroll back to see what you drank and scroll forward to see your projected BAC metabolize.
And don't worry if you forget to add a drink because TrackBAC will let you add drinks retrospectively. Simply single-tap on a drink and then tap the display at the time you drank it and TrackBAC will automatically adjust your BAC.
DISCLAIMER!: The BAC calculation is an approximation *only* and is affected by a number of factors that can vary from individual to individual. Always drink responsibly and never drink and drive.
Sidenote: At the point of posting this program has been marked as beeing freely available without costs. As this program is hosted with the AppStore the status might change. Authors like to publish their programs for free for promotion purpose and then make it commercial. Also it could happen that the author decides to take the program down.