Are you developing an iPhone OS application and need the UDID from a device for Ad Hoc testing? Then you need UDIDit!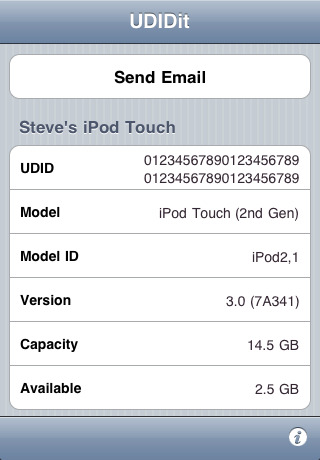 UDIDit is free application that makes it simple to retrieve the UDID from an iPhone OS device. By installing UDIDit on your iPhone or iPod Touch, you can easily send an email that includes the following useful information:
• Device Name (i.e. "Steve's iPod Touch")
• UDID = Unique Device Identifier required for Ad Hoc testing
• Model (i.e. "iPod Touch (2nd Gen)")
• Model ID (i.e. "iPod2,1?)
• Version = iPhone OS version and build number (i.e. "3.0 (7A341)")
• Capacity = Total space on the device's file system
• Available = Available space on the device's file system
As a developer, it can be difficult to explain to your testers how to obtain their device's UDID and send it to you. To make it easier, simply ask them to install UDIDit on their device and press the "Send Email" button.
You can even email them a URL that they can click on from their device after installing UDIDit and it will automatically generate an email to the specified address (i.e. "udidit://emailaddress@yourdomain.com"). Or you can copy the UDID to the pasteboard by clicking on the UDID (iPhone OS 3.0 and above).