Feed your gadget lust on the go with the Wired Product Reviews app. Get Wired.com's daily reviews of the latest consumer electronics, gadgets, cars, gaming gear and more.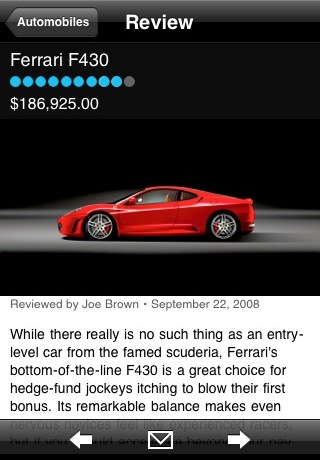 Each hands-on review includes detailed product information, key specs, Wired's rating and the list price — all with top-quality photos. Download now to effortlessly navigate hundreds of reviews, from laptops to Lamborghinis.
Features:
– Authoritative reviews from trusted Wired editors
– Latest, most innovative products
– Concise rating system cuts through the hype
– Search or browse 12 product categories
– Sort by product name, date, price, and rating
– Email to a friend
Sidenote: At the point of posting this program has been marked as beeing freely available without costs. As this program is hosted with the AppStore the status might change. Authors like to publish their programs for free for promotion purpose and then make it commercial. Also it could happen that the author decides to take the program down.