ZAP is a personal iPhone photo journal. Create a photo journal of your daily life and share it with family and friends (or keep it private)!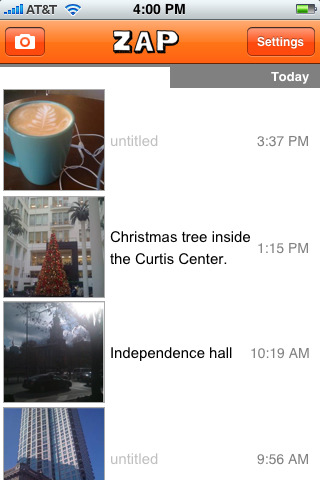 ZAP lets you instantly add captions to the photos you take with your iPhone. It also stores the time, date, and location of your photos. Track your daily activities with its map feature, which shows the exact place your photo was taken.
The contents of your journal are automatically uploaded to your own personal page on the Internet, so your memories are preserved even if your iPhone is lost or stolen. You choose whether your ZAP page is password protected for privacy or shared with others.
Chronicle and share your life in photos!
Sidenote: At the point of posting this program has been marked as beeing freely available without costs. As this program is hosted with the AppStore the status might change. Authors like to publish their programs for free for promotion purpose and then make it commercial. Also it could happen that the author decides to take the program down.