Color Gotcha 2600 is a new Atari 2600 game by LS_Dracon.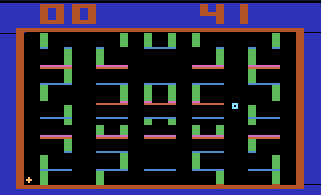 The "square" player chases the "plus" player. Try to catch the plus symbol to earn points. It's a 2 player only game at the moment but there are plans to add artificial intelligence for one player only.
Changes:
* Fixed the timer – now runs up to 99 just like the arcade
* Hit Pause – now the maze is cleared and the game freezes by 1 second or so, every players hit – just like the arcade 🙂
* Removed the black bars at corners.
* Press joystick button to restart the game or reset switch to reset anytime.