Maids and Elevators has been udpated. You are a maid, you need to get to the top of the hotel using the stairs – and don't get hit by the elevators!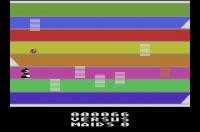 Changes:
-added death music
-added intro to gameplay music
-removed (nonworking) 2-player mode, replaced with "Novice"
-bunch of back-end, optimizing stuff.
http://www.atariage.com/forums/index.php?showtopic=96750&st=75