Petiso has released a new GP32 game. It's the first GP32 homebrew release after weeks and the first GP32 homebrew release in 2008.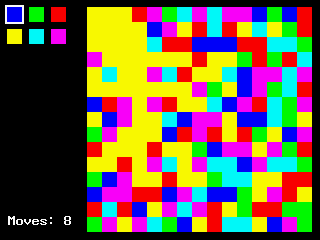 You need to flood the board with certain colors in the least movements possible.
Thanks to GP32spain.com for the news. Original download location is here: http://www.gp32spain.com/foros/downloads.php?do=file&id=1825 – It needs you to be registered at GP32spain. If you don't want to register you can grab the file from the PDRoms archive.