GMenu2X is a very very good alternative frontend for the GP2x/Wiz/Caanoo. It supports overclocking, sound volume setting, touchscreen, etc.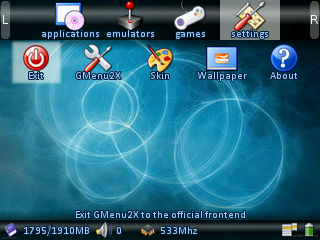 GMenu2X allows you to create direct links for your games & applications so that you can directly launch them without having to browse through all the filesystem manually, resulting in a better user experience.
Changes:
– Wiz and Caanoo support implemented (including battery readings and overclocking)
– Completely rewritten font code: fonts are now standard truetype fonts with a 1px outline.
– Skins can specify a custom font, change its size and the color of the outline and of the font itself.
– Completely rewritten input system: the screen is redrawn only when it needs to be updated, idling when there is no input by the user.
– Additional system informations displayed in the about dialog
– Cpu clock increments by steps of ten
– File selectors from the "edit link" menu now start browsing from the link directory
– Reduced size of the binary
– Lots of bug fixes

This release offers caanoo users the ability to return automatically to gmenu2x after exiting from launched apps/games despite the broken autorun implementation.
The exit link is not available at this time, since I still need to find a good solution, but booting back to the default menu is as simple as rebooting with the sd card pulled out of the console.
For users upgrading from earlier versions I recommend starting from scratch and eventually copying over only the links from the old installation.
http://www.gp32x.com/board/index.php?/topic/58178-gmenu2x-v0-11-released/