PicoDrive is a Megadrive / Genesis / Sega CD / Mega CD / 32X / SMS emulator.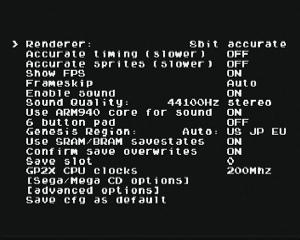 Release notes by notaz:
This should run on GP2X/Wiz/Caanoo, but I've only tested this on GP2X and Caanoo. The main change is that SegaCD compatibility issues should be resolved now. 32X compatibility has been improved too, but it'll be too slow on GPH consoles. I don't know if/when I can optimize 32X, although it should be possible to improve it still.

From what I see there is not much action on these boards any more, I guess everyone moved on to one of the gazillion Android devices that are available these days.. If anyone still uses this on their GPH consoles (especially on good old GP2X), it would be nice if you posted here so that I know if it's worth building future PD releases for GPH consoles or not.
http://www.gp32x.com/board/index.php?/topic/63893-picodrive-revival-191-gp2xwizcaanoo-version/