This competition has been organised and prizes funded by members of the online GP32, GP2x, WIZ and DINGOO handheld console communities based on various international forums.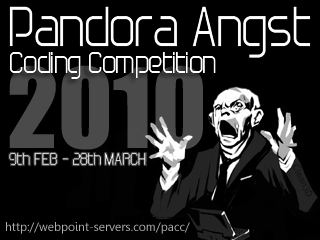 The competition was originally suggested on the GP32x.com forums after one member was feeling frustrated and anxious waiting for the pre-order of his Pandora handheld console and decided a fun distraction was in order.
Please contact codingcompetition @ googlemail.com if you would like to donate towards the total prize pool, you can donate as little or as much as you like. Also you can request to be an anonymous donor if you like.
If you would like to be considered as a judge please contact us at codingcompetition@googlemail.com.
If you would like to enter the competition please submit your entry using the online submission box. Also if you want to contribute a splash screen please email us. Splash screens should contain "2010 P.A.C.C February 9-29 2010" and our web address.
This competition was organised to reward and celebrate our scene's coders and give them an opportunity to work on something they might enjoy doing rather than something "THAT I ACTUALLY LIKE AND CAN USE" as one selfish member stated. Also this competition is not intended to be a way "to shake down the community."
Rules:
Entries to be submitted by using the online entry box no later than Sunday March 28 Midnight Greenwich time.

Entries will only be accepted for the following formats: GP32, GP2x, WIZ and DINGOO (Native or Dingux).

Entries will be accepted for other systems only if they benefit one of the above formats. For example development tools, video encoders, game makers etc that run on PC/Mac/Linux…

Already released software must have a substantial upgrade from previous releases to qualify for judging and must also contain a list of changes to the previous version.

Entries to contain a text file with the authors email, PayPal address, the name of the software and a brief description of the software. This file should be called "entry.txt"

Entries that are not stand alone software will have to include any libraries or files required to run. In special circumstances we will be flexible on this rule but clear instructions will have to be provided. In the case of interpreters and emulators copyrighted files should not be included.

Entries are not to be released to the public until after the contest has closed and winners announced. Private beta testing is of course allowed.

Entries that run on the units themselves will require a "2010 PACC" splash screen to be eligible for prizes. These splash screens will be downloadable from the competition webpage or you can make your own as long as it contains the following information: 2010 P.A.C.C February 9-29 2010. It also must contain the competition web address "http://webpoint-servers.com/pacc/" and any corporate sponsorship we pick up along the way. 😀

Entries in languages other than English will be accepted as long as sufficient English documentation is provided.