Wizznic is an implementation of the arcade-classic Puzznic, written for the GP2x Wiz, Linux and Windows.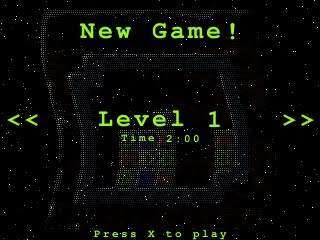 Changes:
Fixed a bug in the level-preview-dump function that made a black image if no start/stop image found.
Thumbnailer works again (on levels that refer to themes that are installed)
Added instructions for using the thumbnailer in the install.txt
No longer blink [MORE] in the level-editor list.
Removed an error message that were printed even though there was no error.
Pack-List is now sorted.
Added Puzznic! Stage 09 pack by KML
Script to make releasing for Linux (Source package) and Wiz automated. This will be extented to windows when I learn to cross compile.
Thanks to http://lostsite.altervista.org/wiz/?p=1727 for the news.
http://www.gp32x.com/board/index.php?/topic/53886-wizznic-0-8/